I am on the Professional Software Development course at Code Clan Edinburgh. It's a 16 week, full-time immersive course that takes place mostly at the city centre campus, with one day of remote lessons (partly to get people used to communicating remotely, as that'll be how most job interviews take place).
The first week is like having your brain pummelled with information.
My cohort is large; there are no spare seats in the classroom. The room is small but has space for everything we need: lockers, whiteboards, arm and leg room. We are a mix of ages and experiences. Some of us know coding languages and are here for new ones; some of us know bits of everything; some of us have copied and pasted some HTML. This would include me.
There are things to consider about your situation joining an intensive course: how much knowledge are you going in with? Do you have demands on your time outside of the course? How long since you were in regular education? Your brain needs time and space to adjust to the information, the setting, the new group of people you now spend most of your time with.
Code Clan have, as well as instructors, a student services team including a Learning Support and Wellbeing Officer. From the induction day onwards they are influential: describing concepts such as Growth Mindset and Agile working practices and how to roll with the ups and downs of the course. As I am not the only person to feel overwhelmed this week, the student services team and the instructors' ability to advise and reassure is pivotal in terms of resilience.
This pays off in the second week. You will go over the weekend's homework in fine detail and start connecting the dots. Give it time. Sit with any discomfort you have and trust the process.
---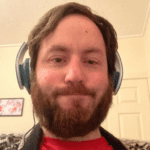 Andrew Blair
Thank you to Be-IT for helping to sponsor me through this course. Your generosity is very much appreciated.