We've always tried to do things the right way at Be-IT. That's about how we treat IT professionals looking for their next move, about the way we work with employers and the support the people on our team. But it's also about the wider world – about the impact we make on our environment.
Of course, we do our work in the office, on the phones or – public health rules permitting – in face-to-face meetings. It's not exactly heavy industry. But we all have our part to play. And we want to be the country's leading IT recruiter, in every sense. Even its greenest.
So, in June 2021, as part of our eighth birthday celebrations, we signed up to a project that allows us to offset the carbon we emit via our energy usage, office equipment and travel. The project we support plants trees in Scotland which should sequester an equivalent amount of carbon as they grow.
We know it's not a perfect solution. But it's a good step in the right direction. In the future, we'll keep looking at ways we can reduce our negative impact and give our industry a positive example to follow.
---
Clarity on carbon
There's not much of a point making big promises about cutting our carbon emissions down to zero if we don't have a clear plan. So here it is...
We've worked with Net Zero International to produce our Carbon Reduction Plan to show us where we are today and the steps we have to take to get where we want to be.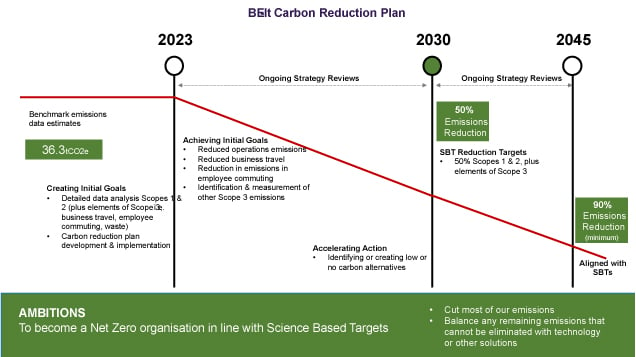 ---