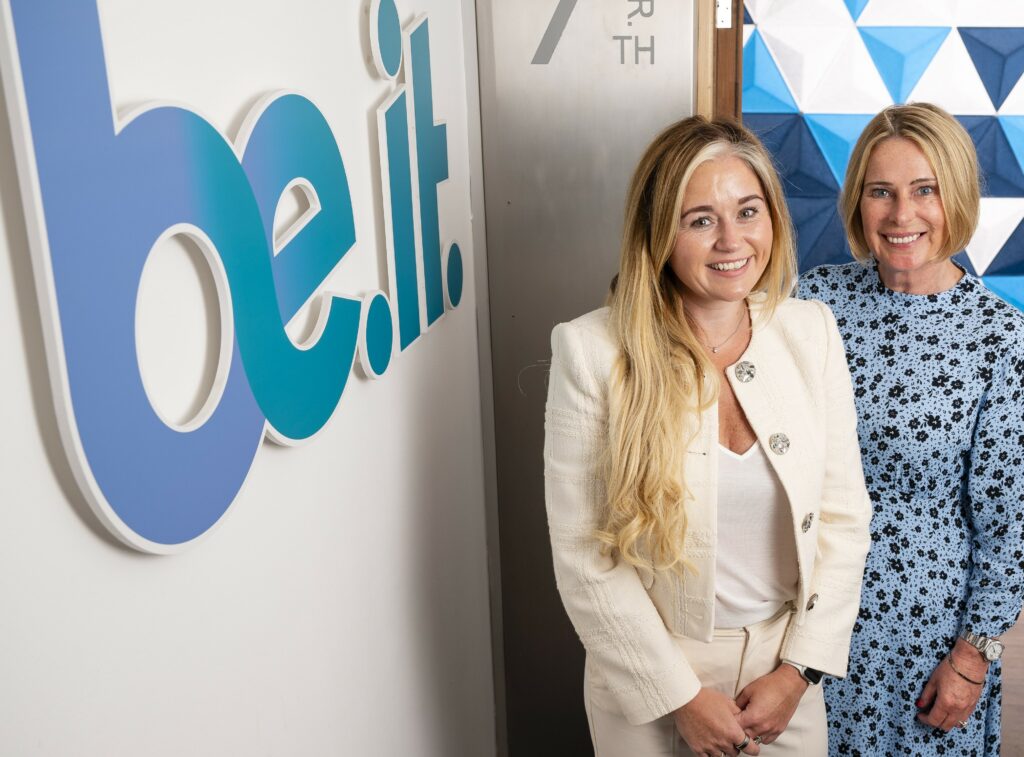 It's already been an impressive year for the Be-IT Group, with several significant milestones including the successful Management Buy Out, a clutch of industry awards and multiple new large client business wins.
Now, we are delighted to announce our latest key hire, Gillian Wilkinson, who joins the leadership team as Client Solutions Director to help the Group drive forward with its ambitious strategic expansion of Be-IT Projects.
Launched in the aftermath of the global pandemic, the Group's managed services arm has steadily grown by offering an innovative approach to delivering solutions and the skills needed to accelerate change – an offering which complements that of the Group's very successful recruitment division.
Gillian has over three decades' experience delivering project and resourcing solutions across public sector and financial services. As Client Solutions Director, she will lead the delivery of project-based solutions – from fully contracted-out services to individual specialists on a Statement of Work.  Her experience of building cross-functional teams to support organisations undergoing transformation, whether driven by technology or organisational change, will be invaluable in the current ever-changing landscape.
About the appointment, Gillian said:
"I've long believed that there is a market gap between traditional recruitment services and full IT outsourcing models, for many clients, one doesn't quite offer enough and the other can be too complex and expensive. The last few years have thrown all sorts of curve balls. From post-covid operational changes to IR35 challenges and economic pressures, it feels like a perfect storm. Getting involved in designing, shaping and delivering services to fill the gap and make a real difference was extremely attractive for me.  
"I'm mightily impressed by all the experience and knowledge I'm surrounded by here. There is a fantastic service ethic, all led by Nikola Kelly, Be-IT Group's CEO. As illustrated by her latest gong, Business Leader of the Year 2023 no less, she's a visionary who somehow manages to balance being driven and energetic with being human and empathetic – no mean feat. I'm really looking forward to working with her and the wider team."
---
ABOUT BE-IT GROUP
Be-IT is an IT resourcing and talent group specialising in technology, digital, change management and executive tech leadership. We are the go-to name in Scotland for tech recruitment. Over the last decade, we have made an indelible impression on our tech communities: shaping countless careers and playing our part in the success of a broad range of employers.
In March 2023, the management team of Be-IT completed a multi-million-pound management buy-out (MBO). The eight-strong MBO team are prominent figures in the tech community within Scotland.
---
INFORMATION & ENQUIRIES:
Michael Phair: [email protected]
Read more about Be-IT Projects here.
---
PHOTO CREDITS
Nikola Kelly (left) and Gillian Wilkinson (right). August 2023.
Picture by John Young / www.YoungMedia.co.uk
Tel: +44 (0)7788 438623
All images © www.YoungMedia.co.uk
All other rights are reserved. Use in any other context is expressly prohibited without prior permission.
Larger file of photograph available for download here.